Central District School - Fall 2022
Sunday, September 18, 2022 (8:00 AM - 5:00 PM) (CDT)
Description
Central District Fall School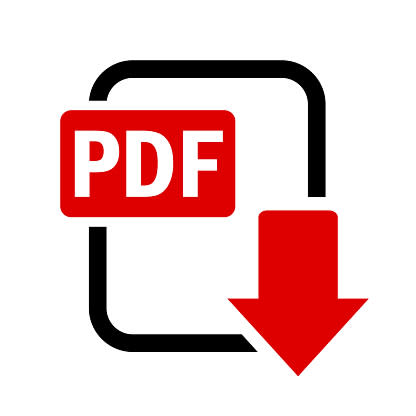 CLICK HERE TO DOWNLOAD THE FLYER
Incident Report Writing, 3-hour class AM only (no limit)
Everyone hates paperwork but having a good report on file for the incidents you respond to helps not only your department, but also assists the state and federal agencies with more accurate statistics as to the problem fire plays within our nation. "Do I really need to fill one of these reports out when I go get Mrs. Jones cat out of a tree?" I can assure you having a report for something like this on file may prove beneficial for you and/or someone on your department in the event Mrs. Jones cat scratches you while you get it out of the tree and a week later you need to go see the Dr. and his diagnosis is: "Cat Scratch Fever." This may sound absurd as an example, but what about when a lawyer starts asking you questions about you and your department's response to a fatal house fire that occurred nearly five years prior? The Chief doesn't have to be the only one to fill out these reports. The officer in charge should be the one to fill out the report for when they are in charge and/or at least obtain all the needed information for the person that will write the report thereafter.
Instructors: Doug Hinkle, Chief Deputy State Fire Marshal's
What a Volunteer Department Needs to Know. 3-hour PM class, (no limit)
How do you know you don't know? This class is an overview and discussion about laws, standards and ordinances specifically pertaining to the fie service that are promulgated at the federal, state and some local levels. Recommended for those that are in management positions with fire department operations, fire prevention/code enforcement or those that deal with building fire and life safety issues as well as the up-and-coming firefighter.
Instructor: Doug Hinkle, Chief Deputy State Fire Marshal's
Fire Departments Role in Arson Investigations. all day class, no limit
This basic 6 -hour course is intended to provide information to the responding firefighter on what to look for and begin to document in a suspicious fire scene. Topics discussed will include initial observations, occupant information, right-of-entry, fire suppression efforts, scene preservation, evidence collection, and much more. Attendees should gain a better understanding of the fire investigation process and what to expect once a case turns into a criminal arson investigation through courtroom prosecution. Discussion/demonstrations of an ATF Accelerant Detection Canine and actual SD case studies will be utilized in support of classroom discussion.
Instructors: Brandon Neitzert- Special Agent SD DCI, Kerri Hoogendoorn-Retired Special Agent ATF, Paul Coon Deputy State Fire Marshal
Grain Bin Rescue. All day class, limit 20
For emergency responders who may respond to persons trapped in a grain bin, bulk feed, bulk seed, or related materials at a farm or grain handling or storage facility. Morning classroom session will compare commercial rescue tube features and benefits, review basic rescue procedures, and discuss equipment your organization currently has available to access a person and what else may be needed. Afternoon hands-on rescue evolutions will be held at a nearby grain handling facility. Hazards to responders will be identified with solutions discussed. Patient assessment and treatment reviewed.
PPE required: eye protection, hearing protection, lightweight helmet, and leather gloves. Coveralls and lace-up boots recommended.
Instructor: Paul Schreck, Mitchell Fire Department (retired)
Cost: $15.00 registration includes lunch and business meeting
8:00 AM – 9:00 AM Registration
9:00 AM – 12:00 PM Classes
12:00 PM – 1:00 PM Lunch and Business Meeting
1:00 PM – 4:00 PM Classes
Chamberlain Fire Station
115 N Courtland St.
Chamberlain, SD 57325
For additional information contact Kurt Kelsey, 605-730-1982
Sponsors
SDFA District School Sponsorship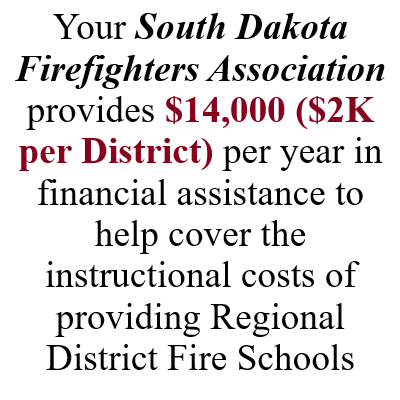 Sponsors
SDFA District School Sponsorship
Pricing
Cost: $15.00 registration includes lunch and business meeting
Your South Dakota Firefighters Association provides $14,000 ($2K per District), per year in financial assistance to help offset the instructional costs of providing Regional District Fire Schools.
Chamberlain Fire Department
115 N COURTLAND ST



CHAMBERLAIN

,

SD

57325

United States



Sunday, September 18, 2022 (8:00 AM - 5:00 PM) (CDT)
8:00 AM – 9:00 AM Registration
9:00 AM – 12:00 PM Classes
12:00 PM – 1:00 PM Lunch and Business Meeting
1:00 PM – 4:00 PM Classes
Categories
District (SDFA) School
Training
Central District School